AND a Killer Jerky Bloody Mary Recipe
Here at Joe's Jerky, not only do we love hunting, fishing, and staying active, we also love some NCAA basketball. Maybe it's our Indiana roots, but the next few weeks are always packed full of great games, buzzer beaters and upsets. I don't think that it's a coincidence that there are five Indiana teams to cheer on and there are 5 awesome flavors of Joe's Jerky.
So whether you're a Hoosier, Boilermaker, Bulldog, Fighting Irish or Crusader, make sure to get your orders placed for Jerky and Snack Sticks before those brackets start busting! Having the correct beverage and snack setup is ESSENTIAL, and NOTHING goes better with some cold ones, than Joe's Jerky! Or if you're not a beer guy/gal, maybe try this cocktail. It serves 4, but you don't have to share...
Ingredients for 4 Servings
3 Lemons

1 cup vodka

3 inches white horseradish, freshly grated, or 1 tbsp bottled horseradish

1 tbsp worcestershire sauce

2 tsp Tabasco sauce

3 cups tomato juice, well chilled

½ tsp seasoned salt

½ tsp freshly ground black pepper

1 celery stalk for each glass

1 strip of Oohdats Hot Beef Jerky for each glass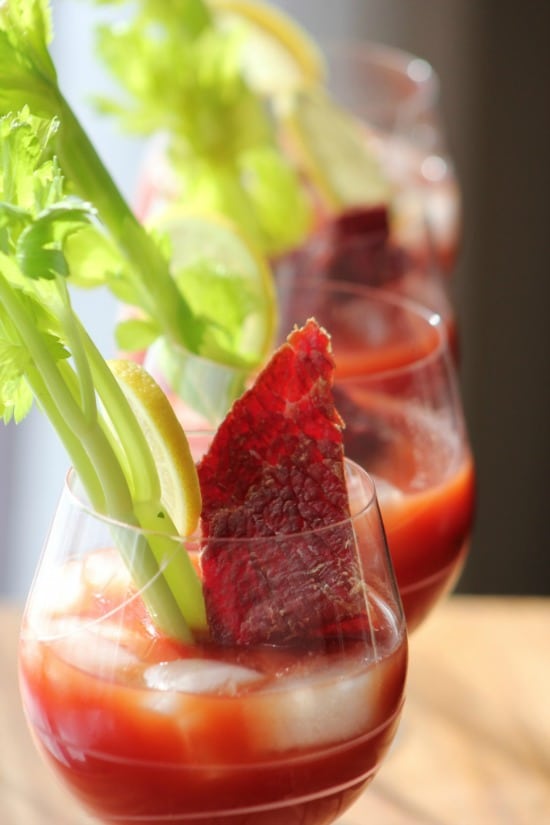 Photo & Recipe courtesy of Baker Bettie!